The Survivor Leadership Series is a space for survivors of partner abuse in the LGBQ/T, SM, and/or polyamorous communities. Survivors can come together, own our stories, make sense of our experiences individually and collectively, and support each other's leadership to feel better prepared to share our experiences when and how we want to. In other words, survivors can work collectively to build leadership based on their experiences.
You have a voice. You are not alone. Your stories are powerful.
Download application by clicking here.
Deadline 2/10. Email application to Charly (they/them) at mobilize@tnlr.org
We will offer workshops, trainings on skill development, space to process and connect with each other, space to create through different mediums, and opportunities to share, all in a supportive environment with folks who share an experience of survivorship. Therefore, workshops at the Survivor Leadership Series will include our analysis of partner abuse, its inherent connection to systemic oppression, and others, based on participants' interest and experiences.
The purpose of this group is to cultivate leadership among folks in the LGBQ/T, polyamorous, and/or SM communities   
Applicant Requirements for the Survivor Leadership Series:
Be a survivor of partner abuse
People of color and transgender people are especially encouraged to apply
Be interested in learning about the connections of partner abuse and systemic oppression
Desire for community and social justice
Be open to exploring different creative mediums
Applicants must be able to commit to attending in-person meetings in Boston twice a month for five months
Please help us spread the voice by sharing this flyer on our social media! And, follow us on facebook, instagram and twitter.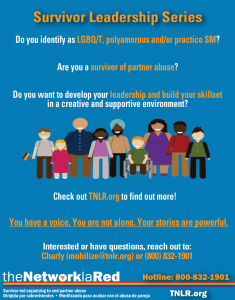 Survivor Leadership Series Flyer